Medical Chronology Summary Services
We sort, organize, summarize, and chronologize your case documents
Medical Chronology
Review Summary
A medical chronology is a sequential record of the medical care and events for a patient. Meds Global Tech LLC creating a clear and succinct medical chronology from voluminous records and reading through hundreds or thousands of pages of the medical record to identify, locate, review, and interpret relevant medical information from these records can be time-consuming. Our team of experienced physician and nurse consultants focuses on providing medically relevant information to create medical chronologies valuable to your litigation cases.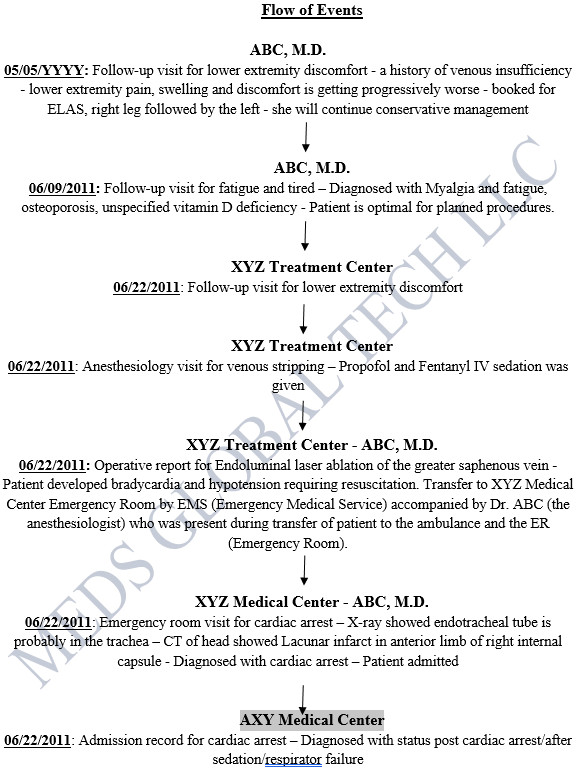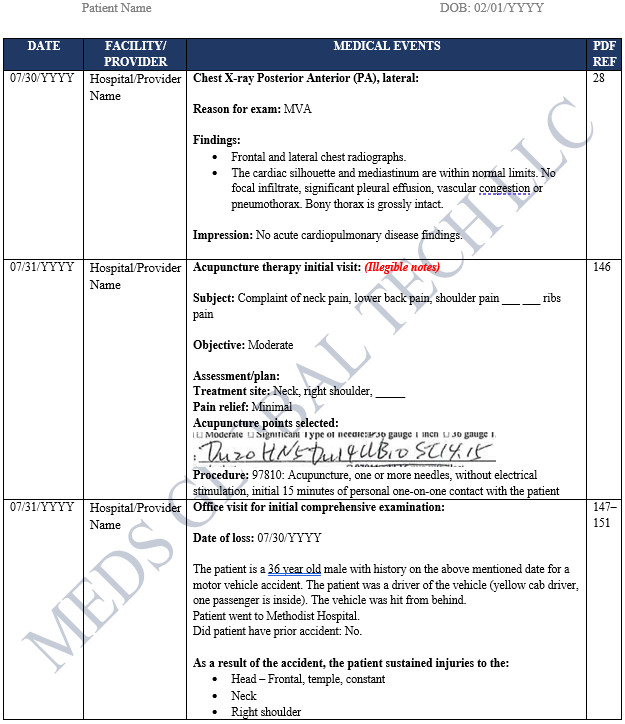 Medical Chronology
(Personal Injury)
In personal injury cases medical summaries are essential to understand the accident, the mechanism of injury, and the immediate care provided. Meds Global Tech LLC summarizes large volume of medical events into a concise timeline summary that describes all the medical events starting from accident scene, pre-hospital care, the emergency room, and the various treatments rendered during hospital stay. Timeline summary provided in chronological order which contain specific details provider-wise and type of treatment and/or injury. It is not unusual for a victim of serious injuries to have multiple medical providers. Special emphasis is given for the treating physicians' comments regarding causation of the injuries; prognosis and permanency are included in a medical summary. The most important factor in the charting is the medications administered; medical procedures done; X-rays, CAT scan, MRIs scan, etc. were done; accounting for all the relevant care given in the hospital, while the patient received treatment.
Medical Chronology
(Medical Malpractice)
We offer boutique service based on the stage of litigation and need of law firms. Medical records are arranged chronologically and provide you timeline of events surrounding the allegations.
Every piece of medical information is cross-referenced with the original medical record. Our chronological medical summaries save valuable review time for the expert and highlight the important medical facts and deviation from the standard of care in a given medical malpractice claim.
The dollar savings in having an expert review a concise written summary instead of voluminous medical records prior to deposition or trial cannot be overstated. Testifying experts can confidently use medical chronology to understand the facts correctly. Medical summaries are presented in user friendly word or PDF format based on your requirement.
Importance of
Medical Chronology
Medical Records are voluminous and unorganized while receiving from your clients. Attorneys benefit from obtaining detailed and accurate reports containing relevant information from the records because it reduces the time and effort spent assembling, reviewing, and summarizing the records.
Our team creates a fact-based summary of events known as Medical Chronologies, which allow attorneys and staff to obtain the information regarding a client's medical treatment.
With a clear and organized understanding of a patient's medical records and treatment history, the attorneys can focus on important case-related issues, such as proving causation, working towards a settlement, preparing for a deposition, or preparing for trial.
How We Prepare the
Medical Chronology?
Sorting and categorization of received medical records
Creating the indexing of medical record summary that is easy-to-understand and highlighting the critical aspects of the record
Yellow highlights to focus on the critical areas of case flow
Option to add highlighted notes based on client's requirements
Accurate capture of the date of each record, procedures underwent, treatments, nursing notes, and other custom data fields
Duplicate records are deleted, and a log is created of the deleted and unrelated records at the end of summary
Delivered in WORD format or PDF format

PDF format includes options for:

Hyperlinks/Hotlinks for ease navigation to the respective source page
Bookmarking to index by user-defined keywords or categories
Med-A-Word is used to get the definitions of medical terms