Settlement Demand Letter Review
Our demand letter assists the attorney to settle the case before litigation
Settlement Demand Letter
Review Services
The main objective of the Demand Letter is to present facts about the injury, accident/incident, and medical treatment, with the objective convincing the insurance company to settle the case. A powerful and well-crafted demand letter is the key to setting the context for obtaining an elusive, and, often, out-of-court settlement. Our demand letter assists the attorney to settle the case before litigation.
Meds Global Tech LLC summarizes the personal injury demand letter with the history of your personal injury claim for the insurance company. Our summary begins at the point of incident and impact of the incident and ends with your final day of treatment. Our personal injury demand letter guides the adjuster through all you have lost as a result of the insured's negligence. A well-written demand letter can effectively limit the adjuster's options for objecting to the amount of your settlement demand. Our demand settlement letters clearly highlight all the accident events with an aim to garner greater compensation; it gives a perfect summary of facts describing the incidence; in-depth description of all the injuries sustained, procedures and associated bills and expenses; statement of loss of income and other associated expenses; clear description on the impaired quality of life were appropriate; clear settlement on injury settlement demand amount.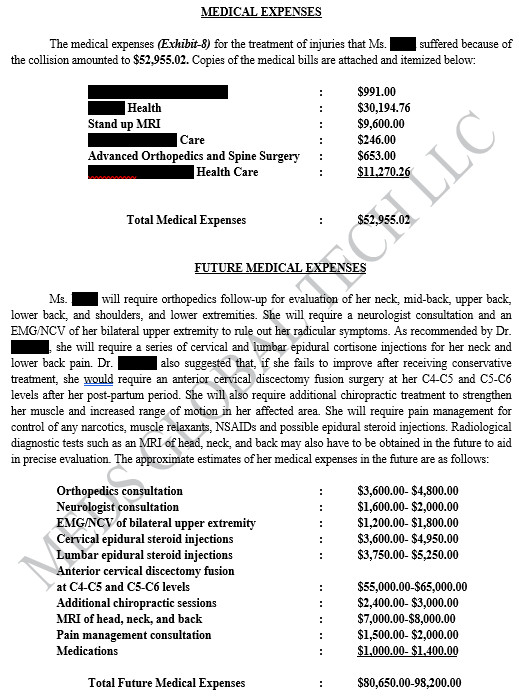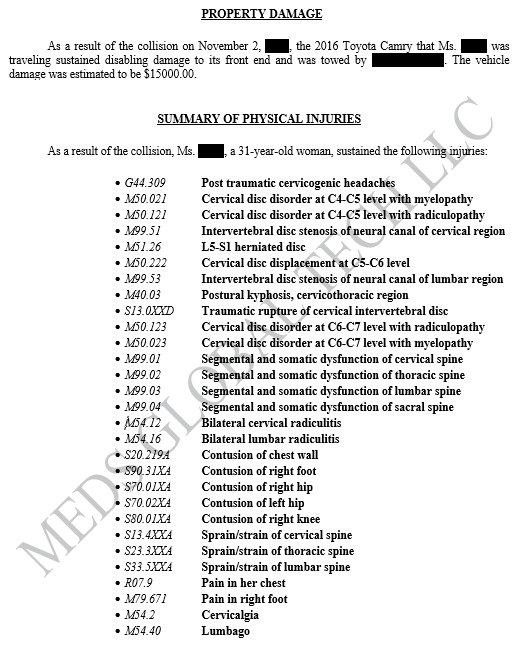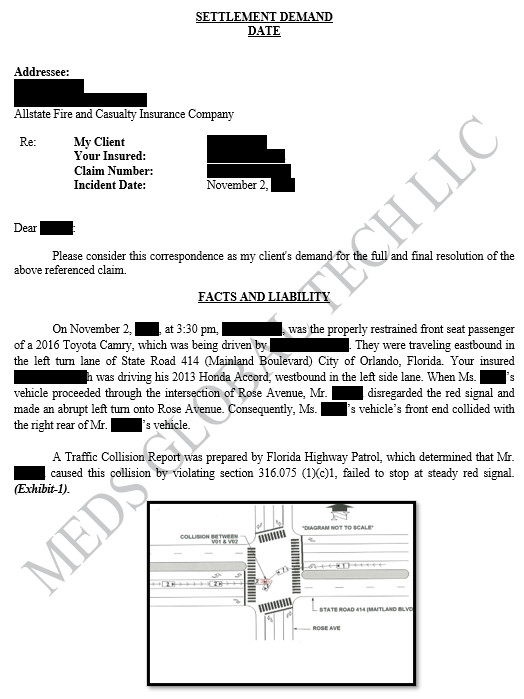 Focus Area of Demand Letters
Motor Vehicle Accident (MVA)
Slip and Fall
Pedestrian Accidents
Disability
Worker's Compensation
Types of Settlement Demand Letters
Settlement Demand Letter
Stowers Settlement Demand
Under-insured Settlement Demand
Meds Global Tech LLC's
Demand Letter Consists of
A summary of the incident along with available illustration
Facts and liability of the incident
Summary of physical injuries with ICD or CPT codes
An overview of the treatment of injuries
An overview of the ailments due to the injuries
Summary of the medical expenses
Summary of anticipated future medical expenses
Description of lifestyle impact
Any other losses sustained such as loss of income with relevant documentation to substantiate it
The demand amount sought in settlement
Salient Features of
Settlement Demand Letter
Summarized by highly experienced doctors, nurse consultants, and medical professionals
Professional experience in preparation of demand letters
Solution of all the critical elements required for creating powerful letters with structured templates
Focus on helping the attorney or law firm to achieve settlements out-of-court
Get the time-zone advantage
Cost optimization
Time-consuming the legal processes
Why Choose Us?
Maintain Confidentiality and Secrecy
All your medical records are in our safe-custody.
Services are Cost-effective
Most of the appointed experts are in-house which brings down the cost drastically.
Assured Quality
Our controls are stringent.
Delivery is Swift
Deliveries are done in the quickest time with no decline in quality
Customization
Customized Reports are our forte, which gives a professional finesse
Strickler for Rules
We unfailingly adhere to State and National guidelines
Handle Volumes
We are skilled to handle large volumes of medical records and process them with ease and integrity
Free Hyperlinks
We make things easier by creating quick links for better explanations to locate points of interest within the records